Top Message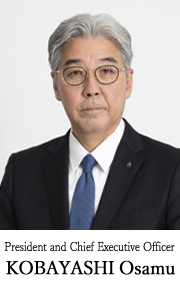 At Tanseisha, we enhance a variety of spaces by turning them into sites of rich interconnection – between people, between people and things, between people and information. We strive for the success of our clients' businesses as well as the emotional experience and satisfaction of users and visitors. We put our hearts and utmost care into "creating spaces for imaginations to grow." In today's world where online activities and communication have become widely popular, physical experiences that involve a corporeal sense are more important than ever. We believe in the value and potential of such spaces and will continue to spare no effort in bringing them to life.

Environmental changes, such as the advancement of digital technology and sustainability initiatives, are happening faster and with more intensity than ever before. We are committed to facing these changes and transforming ourselves without being bound by preconceptions. As "professionals in spatial creation," we will take on the challenge of creating new values while refining and polishing our creativity and skills, and utilizing our experience, knowledge, and resources gained through the development of countless spaces.

We will continue to contribute to the realization of an enriching and sustainable society, by keeping a firm grasp on the changing society and its increasingly diverse and sophisticated requirements, while thinking and growing together with all our stakeholders.