Other CSR Efforts
Throughout our corporate activities, we both support and implement initiatives for various issues in our local communities and society as a whole.
Sports Promotion
Our support for women's rugby team, PEARLS
In April 2015, we welcomed HARA Niina, a female rugby sevens (seven-a-side rugby) player onto the Tanseisha team as an athlete/employee. In hopes of creating an environment for her to shine in the office and in the field, the entire staff of Tanseisha have supported HARA and her continuous drive to challenge herself, not only as a member of our organization but also as an athlete.
HARA retired in March 2021, but we will continue to support the PEARLS as a family sponsor company and contribute to society through sports. HARA will continue her work at Tanseisha and will contribute to the health promotion of employees by utilizing the experience and knowledge she gained during her time as an athlete.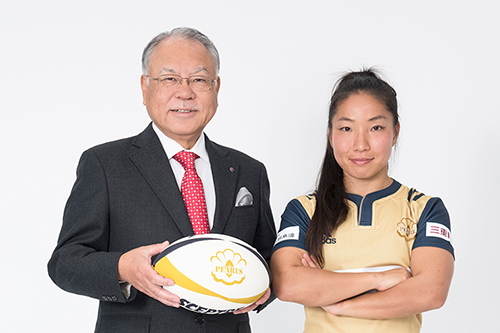 Tanseisha President Takahashi and Hara
The players of PEARLS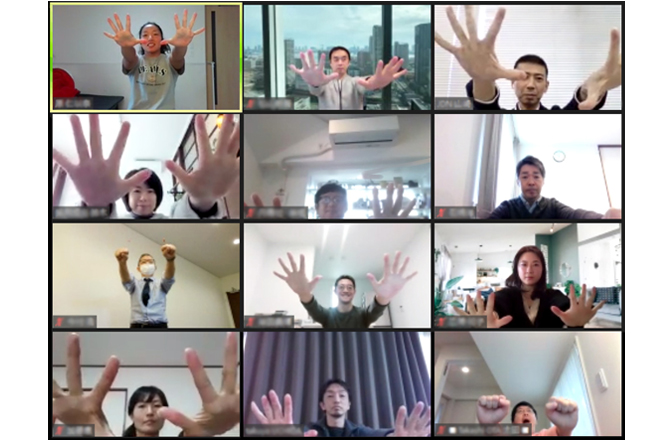 Stretching session for employees led by Hara.
Community
---
We participate in "TEAM BEYOND"

"TEAM BEYOND" is an initiative aimed at realizing a society with diversity where everyone can live and play an active role regardless of their disability, age, gender, or nationality through parasports.
Tanseisha has become a member of TEAM BEYOND in support of this vision.
'TEAM BEYOND TOKYO official site'

---
Certified as a "Tokyo Sports Promotion Company"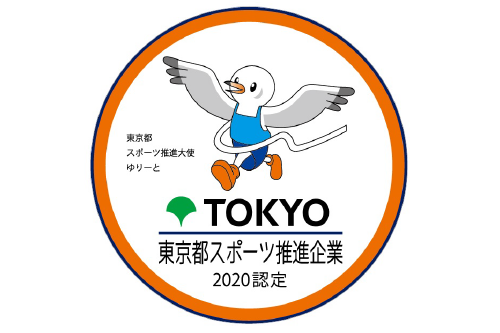 Tanseisha was certified as a "Tokyo Sports Promotion Company" in 2020 for the fourth year in a row under the Tokyo Sports Promotion Company Certification Program, implemented by the Bureau of Olympic and Paralympic Games Tokyo 2020 Preparation in light of our efforts including our support of women's rugby player HARA Niina (Tanseisha's first athlete employee at the time. She has retired from the sport in March, 2021) and promoting parasports at Universal Camp TOKYO.
The Tokyo Sports Promotion Company Certification Program certifies companies that implement excellent initiatives to promote their employees' sports activities and/or support efforts in sports.
Related information (in Japanese)
< News of our web site publication >
Social Contributions to Community
Participation and cooperation in area management activities in the Shinagawa area
Employee volunteers regularly participate in local clean-up programs held around Shinagawa Season Terrace, where our head office is located, and participate in and cooperate in area management activities in the Shinagawa area, such as local events.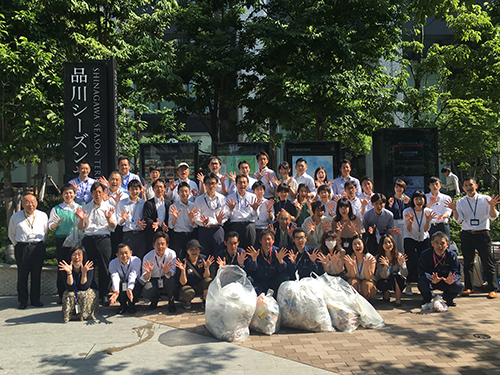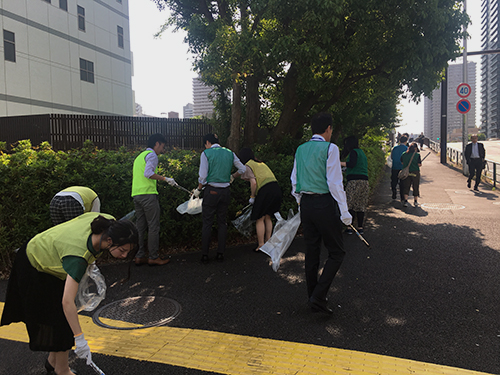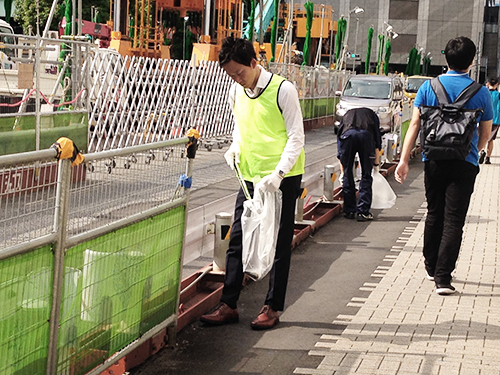 ---
In-house blood donation
As a company that actively cooperates in blood donation, we have registered as a "blood donation supporter" of the Japanese Red Cross Society and carry out blood donation activities in-house every year.
"Blood Donation Supporter" (Japanese Red Cross Society)
---
Spreading information through the "Internet Museum"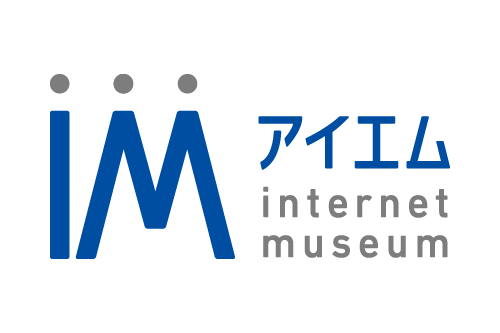 We operate "Internet Museum", one of the largest museum information sites in Japan, under the concept of "Life with Museum". In addition to introducing information on museum facilities and special exhibitions and events, it offers a variety of content such as original coverage reports, curator recruitment information, and exhibition ticket gifts and is used by museum fans nationwide. During the pandemic that has continued from 2020, we have provided a large amount of information to our users as soon as possible, including information on the closing of museum facilities nationwide, information on cancellation and postponement of special exhibitions, and more, benefiting both users and the facility.
Related information (in Japanese)
Business introduction Solution > Management of museum information website
Social Evaluation and Awards
Consumer Issues
Community
---
Donation of face shield and free dress-up design sheet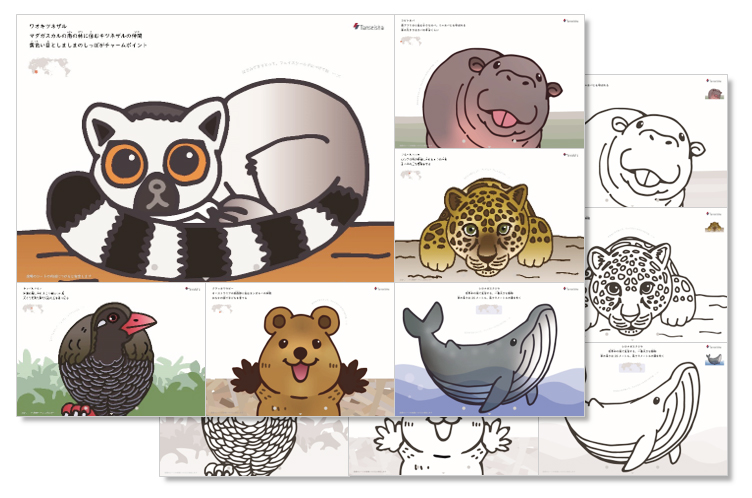 This project is centered around recycled plastic (PP) from used plastic containers of P & G products promoted by the Procter&Gamble Company of Japan Limited with the TANAKA Hiroya Laboratory of Keio University regarding face shields required for the prevention measures of the coronavirus. In cooperation with the efforts to manufacture and donate face shields, Tanseisha designed a dress-up sheet and provided it free of charge. In addition to Tanseisha, Slab Co., Ltd., NANODAX Co., LTD, and TerraCycle Japan LLC also participated. We partnered with the National Deaf School Directors' Association to confirm the needs on ground and donated face shields to deaf schools nationwide.
Related information (in Japanese)
< News of our web site publication >
Consumer Issues
Community
---
Donation of cherry seedlings to the Kyushu National Museum
We have donated 112 cherry seedlings to the Kyushu National Museum. The seedlings are of the Yaebeni weeping cherry tree, and they will be ready for viewing pleasure in about 10 years after planting. Dazaifu Tenmangu Shrine adjacent to the Kyushu National Museum is famous for their Ume, or Japanese plum trees, but future springs in the Daizaifu area will be colorfully singing with cherry blossoms as well.
Reconstruction support activities
Tohoku Reconstruction Event
We held the "Now is when we should show support! The Tohoku Reconstruction Event – considering the future of the disaster struck area through spreading awareness, food and thinking together – " and conducted a symposium, sold local signature produce, put informative panels on display and showed support with our guests to the people in the Tohoku regions that were hit by the earthquake and tsunami. It was a wonderful opportunity to share ideas and think about the future of the affected areas.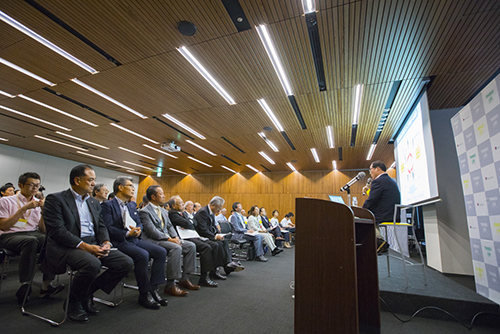 Symposium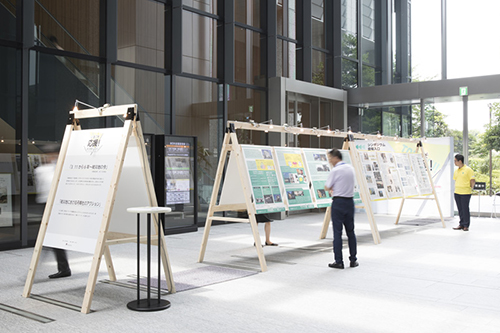 Panel exhibition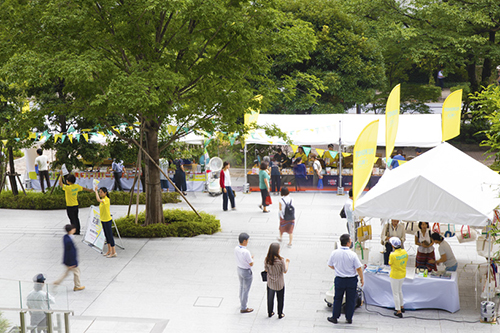 Direct sales of products from disaster-stricken areas
Related information (in Japanese)
< News of our web site publication >
Human Rights
Consumer Issues
Community
---
Support for areas affected by the Great East Japan Earthquake
We support the resolution of management issues faced by companies in the affected areas by participating in the Reconstruction Agency's regional reconstruction matching service "Yui no Ba."
"Reconstruction Agency | About the regional reconstruction matching service " Yui no Ba ""

---
Contribution of donations and support for natural disasters
Tanseisha is involved with various local communities through creating various spaces. In the event of a large-scale natural disaster such as a typhoon, heavy rain, or earthquake, we make donations and provide support funds from a humanitarian point of view for emergency and reconstruction assistance in the affected areas.
Community
Dispatch of lecturers to education centers, and lectures at seminars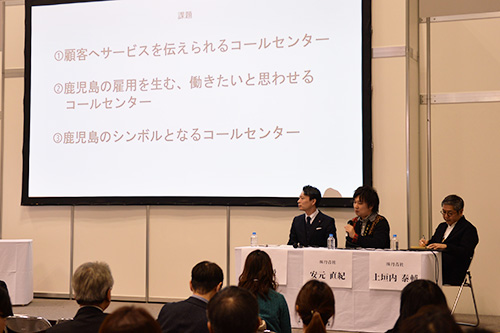 We contribute to the promotion of industry, culture, and academia by dispatching employees as lecturers to numerous talks and education centers such as universities and vocational schools, mainly in fields such as space design and display design.
In addition, we aim to realize a better society through the implementation of universal design. We also aim to help improve hospitality sectors by attending seminars and writing articles that utilize our resources and know-how.
[Themes of seminars that our employees have spoken about in the past]
"Medical x Design: new value", "Creating a space that promotes ES improvement – What kind of work places make employees smile?", "Design of facilities of choice – Environmental production that conveys hospitality", "Town development promoted through public-private collaboration", "Rapidly advancing Asian commercial space design strategy", "Thinking about universal design of the heart together", "Business revitalization and renovation method of existing hotels", "Possibilities of design in the stadiums and arenas", "Understanding diversity and realizing a symbiotic society in local regions", "Cultural tourism innovation that conveys Japan", "Shaping 'uniqueness' from a planning perspective – Creating a facility that is loved", "Experience building a museum together and thinking together", etc.
Consumer Issues
Community
Participation and cooperation in activities of various associations
We contribute to the revitalization of the industry by actively participating in and cooperating with various industry groups and supporting their activities.
Display Industry
・NIPPON DISPLAY FEDERATION
・TOKYO DISPLAY ASSOCIATION
・OSAKA DISPLAY ASSOCIATION
etc.
Design Industry
・International Association for Universal Design
・Japan Design Space Association
・Japan Sign Design Association
・Japan Commercial Environmental Design Association
・NPO Japan Design Association
etc.
Sponsorship / cooperation for various events
We support and cooperate with various events and support design and cultural activities.
・Under 35 Architects exhibition
・Barrierless City Awards & Competition
・Good Job! Exhibition
etc.
In the examples of our company efforts to address each materiality category, we use the following tags to represent each of the central themes described in ISO26000.
Corporate Governance

: Corporate governance

Human Rights

: Due diligence | Human rights risk situations | Avoidance of complicity | Resolving grievances | Discrimination and vulnerable groups | Civil and political rights | Economic, social and cultural rights | Fundamental principles and rights at work

Labor Practices

: Employment and employment relationships | Conditions of work and social protection | Social dialogue | Health and Safety at work | Human development and training in the workplace

Environment

: Prevention of pollution | Sustainable resource use | Climate change mitigation and adaptation | Protection of the environment, biodiversity and restoration of natural habitats

Fair Operating Practices

: Anti-corruption | Responsible political involvement | Fair competition | Promoting social responsibility in the value chain | Respect for property rights

Consumer Issues

: Fair marketing, factual and unbiased information and fair contractual practices | Protecting consumers' health and safety | Sustainable consumption | Consumer service, support, and complaint and dispute resolution | Consumer data protection and privacy | Access to essential services | Education and awareness

Community

(Community Involvement and Development): Community involvement | Education and culture | Employment creation and skills development | Technology development and access | Wealth and income creation | Health | Social investment