Conserving the Natural Environment
In order to protect our irreplaceable natural environment and pass it on to the next generation, we will work to reduce environmental impact throughout our corporate activities, especially during our spatial creation phase.
Environmental policy
The Tanseisha Group, shares the sense of crisis regarding global warming with society as a whole, strives to improve intellectual creativity and operational efficiency, and continues to work on lasting changes in awareness and behavior in the following areas to ensure sustainable environmental protection. We will continue to create spaces for social interaction that bring fluidity and richness to people's lives.
Reduction of greenhouse gas emissions
We will continue to implement Japan's Cool Biz and Warm Biz movement efforts, and strive to use appropriate resources and energy in our business activities.
In addition, we strive to create space by balancing operation costs and our superb technology for reducing greenhouse gas emission.
Environmentally friendly design
From the design stage, we actively adopt an array of beneficial designs, such health-friendly design, energy-saving design, cultural property protection design, universal design centered around the idea of diversity, etc..
Industrial waste control
We have established procedures for lower production of industrial waste generated from construction sites, as well as proper separation and disposal.
Consideration for facility users
We strive for safety design and appropriate management of chemical substances used when creating facilities so that visitors may use them safely and comfortably.
Compliance
As a code of conduct for an industry that is widely trusted by society, we comply with laws and regulations related to the environment and business practices, as well as other terms and conditions.
Established on February 23, 2001
Revised on February 1, 2017
President and Chief Executive Officer
KOBAYASHI Osamu
Environmentally-friendly design
We strive to reduce the resources and energy consumed and disposed of throughout the spatial creation process, and aim to create spaces that are friendly to both people and the environment. We see spaces for social interaction as a proper part of our environment, and have established six clear-cut items to focus on in our realization of environmentally-friendly design.
Healthy design
We offer healthy interior environments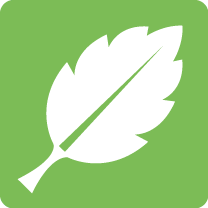 We reduce harmful material such as volatile organic compounds that pollute the air in indoor spaces, placing thorough consideration on human health when designing. In addition, when customers require particularly clean environments, we strive to select interior/construction materials that have antibacterial, antiviral, anti-stain, and deodorizing properties.
3R design
We are tough on waste control and make effective use of resources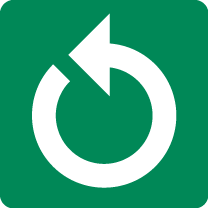 We implement the 3R's — "reduce, reuse, recycle" — when selecting materials and products during the design stage.
Energy-saving design
We select energy-efficient equipment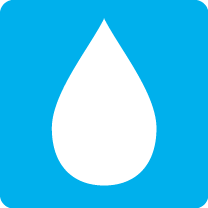 In addition to designing in compliance with various laws and regulations regarding energy efficiency in buildings, we particularly focus on the efficiency of interior finishing materials, equipment, and space production equipment, which are our main business areas.
Universal design
We design with everyone in mind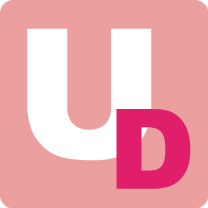 We pursue convenience and functionality for all people, such as the installation of wheelchair-accessible seats and graphic displays at children's eye-level. In addition to the hard and soft aspects of universal design, we strive to implement a universal design of the heart and mind. Tanseisha's Aim for Universal Design(in Japanese)PDF
Safe design
Prevention of accidents and troubles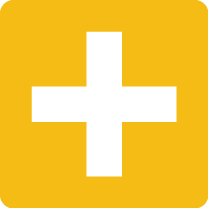 In addition to building safe structures and shapes, such as rounding the edges of furniture and furnishings, and measures to prevent objects from falling or falling over, we design to ensure safety in the event of disasters and to prevent careless accidents.
Design for preservation of cultural properties
We pass down essential cultural assets to future generations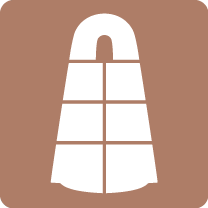 When displaying and storing cultural assets and works, we strive to design the needed environments and take necessary technical measures so as to prevent deterioration or damage.
Environmental considerations at construction sites
Even during construction, the final stages of our spatial creation process, we make sure our actions are friendly to people and the environment. We aim to reduce the environmental impact through environmentally friendly construction. In particular, we have developed our own procedures to reduce industrial waste emissions and prevent health problems caused by chemical substances generated from interior materials.
Industrial waste management for reducing environmental impact
We have established items of practice in our own procedures, and have developed a management plan to reduce the generation of industrial waste for each individual project. We also record the details of the implementation, their effects, the type and amount of waste generated, compliance status of laws and regulations, etc., after construction. The feedback is then referenced in construction plans to manage industrial waste and continuous improvement. In addition, we regularly hold a Safety Committee where we take measures for appropriate disposal of industrial waste by submitting proper documents, checking the status of processing, and conducting guidance. At our Industrial Waste Management Committee we confirm measures and provide guidance on industrial waste management and policies.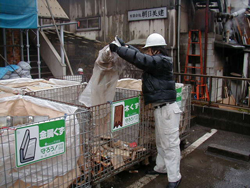 Items of practice
Factory production (pre-cut knockdown method)
Rental (reuse) materials and fixtures
Reduction of over-procuring materials and guidance on how to take back surplus materials
Reduction of excessive packaging at the time of loading of materials
Reduction of the occurrence of end materials by utilizing economic measuring
Reduction of mixed waste by separate collection
Environment
---
Prevention of health disorders and "sick house."
We conduct environmentally friendly design and construction planning (analyzed by construction review committee), select certified materials, establish essentials for site management, record them via site management photo registration, and manage the use of certified materials.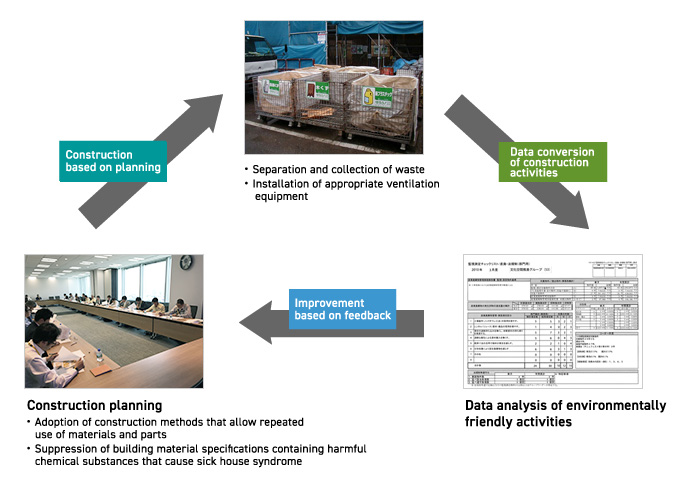 Labor Practices
Environment
Consumer Issues
Environmental management system
The Tanseisha Group's environmental management system aims to create comfortable environments for social interaction by integrating business practices, and taking into account, at the design stage, not only the protection of the natural environment, but also the operational aspects of the facility after construction. In July 2017, we updated our registration certificate of environmental management systems in line with the 2015 REVISION of ISO14001, and expanded the scopePDF (in Japanese) our main bases to promote operations in an optimal way.
Environmental activities in the office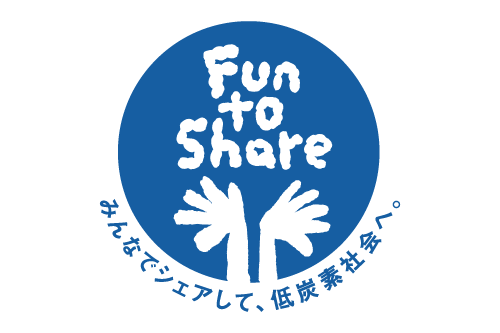 Operation of "4earth", an e-commerce site specializing in discontinued products such as building and decorative materials.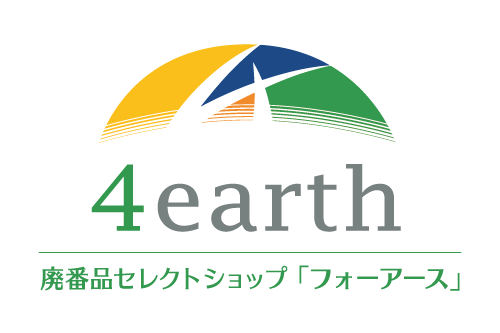 We operate the EC site "4earth", which specializes in discontinued products with the aim of effectively utilizing discontinued building materials, lighting fixtures, and decorative materials due to technological advances and changing trends. Making use of our involvement in creating spaces across various fields, we cooperate with manufacturers to select and consolidate discontinued products from the perspective of spatial design, and reintroduce them back into commercial distribution to promote widespread use.
Related information
< News of our web site publication > (in Japanese)
Environment
Consumer Issues
Environmental Activities at Group Companies
Tansei Institute
Tansei Institute is an important part in our chain of business practices. This is where we, as interaction/exchange creation consultants, conduct consulting for environmentally friendly exhibitions, utilizing and emphasizing culture. In particular, we work on proposal activities for our Eco-Museum. By researching the natural environment, and sifting through the history and culture of respected regions and capturing its characteristics, the Eco-Museum aims to revitalize the region by polishing their tangible and intangible cultural properties, creating new charm and attractions.

For more information on the Eco-Museum, please visit the Tansei Institute website.
---
Tansei Display
Tansei Display, which designs displays in department stores and commercial spaces and as well as those museums and cultural event spaces, conducts environmentally friendly design and construction practices in the same way as Tanseisha.
In the examples of our company efforts to address each materiality category, we use the following tags to represent each of the central themes described in ISO26000.
Corporate Governance

: Corporate governance

Human Rights

: Due diligence | Human rights risk situations | Avoidance of complicity | Resolving grievances | Discrimination and vulnerable groups | Civil and political rights | Economic, social and cultural rights | Fundamental principles and rights at work

Labor Practices

: Employment and employment relationships | Conditions of work and social protection | Social dialogue | Health and Safety at work | Human development and training in the workplace

Environment

: Prevention of pollution | Sustainable resource use | Climate change mitigation and adaptation | Protection of the environment, biodiversity and restoration of natural habitats

Fair Operating Practices

: Anti-corruption | Responsible political involvement | Fair competition | Promoting social responsibility in the value chain | Respect for property rights

Consumer Issues

: Fair marketing, factual and unbiased information and fair contractual practices | Protecting consumers' health and safety | Sustainable consumption | Consumer service, support, and complaint and dispute resolution | Consumer data protection and privacy | Access to essential services | Education and awareness

Community

(Community Involvement and Development): Community involvement | Education and culture | Employment creation and skills development | Technology development and access | Wealth and income creation | Health | Social investment