Contributing to social and cultural development and related solutions.
By creating spaces for imaginations to grow, we create places and opportunities to enliven and develop an array of social activity, while contributing to the emergence and continuation of diverse and rich culture. We strive to contribute to the solutions for many of the hurdles that both our customers and society as a whole face, such as the creating of bustling spaces and invigorating local regions, the handing down and expanding of history and culture to new generations, and more.
Solving problems by creating spaces
We help customers, local regions and society as a whole tackle challenges through our vast experience of creating spaces that foster social interaction.
List of Projects (in Japanese)View
Related information (in Japanese)
< News of our web site publication >
2018.10.22
---
Initiatives to revitalize local regions
In order to offer solutions to issues faced by local communities, we create spaces that contribute to the revitalization of regions throughout Japan. In addition, we examine these regional issues from a multifaceted perspective primarily through the Tanseisha Group's Regional Revitalization Office. We help create a new story, full of local energy, for the future of our regional partners, offering support from the initial stages of project conception all the way to management participation.
Together with local residents, we create businesses and bustle by utilizing our strength in research, planning, and bringing things to life that we've cultivated through our locally rooted spacial creation projects all over Japan and the know-how of the Tanseisha Group.
Furthermore, in regards to our facility operation programs, we make sure to implement locally rooted activities, employing and educating locals for direct autonomous operations so as to contribute to the promotion of culture and the Arts, which in hand returns liveliness to local businesses.
Related information (in Japanese)
Business introduction Solution > Regional Revitalization Office – Creating bustling communities with locals.
Business introduction Solution > All-around support for facility operations.
Social Evaluations and Awards (in Japanese)
< News of our web site publication >
Consumer Issues
Community
Efforts to create safe and secure spaces
Our staff works diligently as a team in order to provide safe and secure spaces that can be used comfortably and easily by all. In addition, we continually strive to improve technical quality by conducting examination meetings on construction methods and techniques.
Employee education for improvement of special technical skills
For jobs related to production, we give training for the improvement of special technical skills regarding law, safety, and construction in both an e-learning platform and hands-on studies. We also provide an e-learning training on risk assessment.
In addition, we provide a Technical Seminar for Designers training class, where designers and planners can improve their understanding of the important points regarding laws, structure, and equipment, in order to evade trouble and risks from the design stage and improve work flow.
Besides these, we also hold study sessions directed to young employees to improve technical skills.

---
Broadening minds through production-related seminars
We carry out various educational sessions aimed at improving customer satisfaction by aiming to improve quality and technology, and calling attention to safety and quality control at the planning stage and on-site.

---
Analysis and sharing of information in order to create safe and secure spaces
We hold a "construction technology study meeting" in order to shorten processes, reduce industrial waste, and improve quality of certain details such as legal confirmation. In addition, at the monthly "Safety Committee," we analyze and share complaint maintenance reports to prevent recurrence, gather information on technical quality improvement, and make adjustments, instructions, and guidance to relevant departments. In addition, we conduct various activities such as regular reviews of our safety handbook, seminars for general managers, and seminars for managers including health and safety managers.

Labor Practices
Environment
Consumer Issues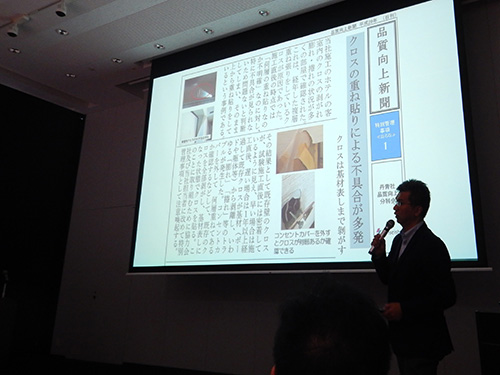 Production seminar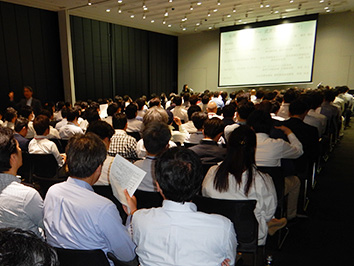 Production seminar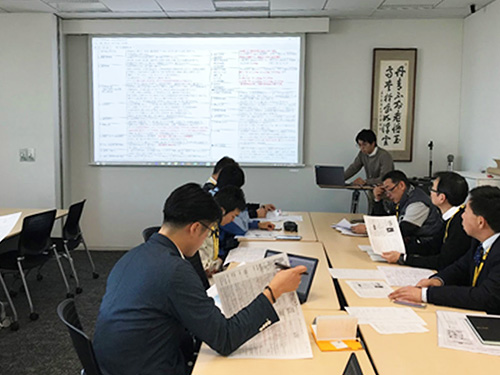 Construction technology study group
Promotion of universal design
We promote the creation of universal design spaces that are comfortable and easy to use for a variety of users, including the elderly, children, people with disabilities, and foreigners. In addition to the soft and hard aspects of universal design, we strive to implement a "universal design of the heart and mind."
We also continuously gather information on universal design and share them with our employees via our in-house intranet, amongst other initiatives.
Projects with universal design taken into consideration (in Japanese)View
Related information (in Japanese)
< News of our web site publication >
Photo: Nacása & Partners Inc., Forward Stroke inc., SS Kikaku, Kawakami Photography Office, etc.
Maintenance & Repair Initiatives
Utilizing our nationwide network with cooperative companies, we support the lifespan ("facility life") of establishments with fast, high-quality maintenance and repair support. We have established a reception system operating 24 hours a day, 365 days a year, and in the event of an emergency we maintain business opportunity losses to a minimum through immediate arrangement and response. By providing regular maintenance, we contribute to the stable operation systems of our clients and the long life of their establishments and services.
Related information (in Japanese)
Business introduction Solution > Support for the making of maintenance free establishments
Environment
Consumer Issues
In the examples of our company efforts to address each materiality category, we use the following tags to represent each of the central themes described in ISO26000.
Corporate Governance

: Corporate governance

Human Rights

: Due diligence | Human rights risk situations | Avoidance of complicity | Resolving grievances | Discrimination and vulnerable groups | Civil and political rights | Economic, social and cultural rights | Fundamental principles and rights at work

Labor Practices

: Employment and employment relationships | Conditions of work and social protection | Social dialogue | Health and Safety at work | Human development and training in the workplace

Environment

: Prevention of pollution | Sustainable resource use | Climate change mitigation and adaptation | Protection of the environment, biodiversity and restoration of natural habitats

Fair Operating Practices

: Anti-corruption | Responsible political involvement | Fair competition | Promoting social responsibility in the value chain | Respect for property rights

Consumer Issues

: Fair marketing, factual and unbiased information and fair contractual practices | Protecting consumers' health and safety | Sustainable consumption | Consumer service, support, and complaint and dispute resolution | Consumer data protection and privacy | Access to essential services | Education and awareness

Community

(Community Involvement and Development): Community involvement | Education and culture | Employment creation and skills development | Technology development and access | Wealth and income creation | Health | Social investment