Promoting Innovation
In order to adapt to changes in society and the evolution of technology, and to continue to be space creation professionals, we will continue to learn and actively take on new challenges including an array of research and experiments for demonstrative purposes. We refine our know-how and creativity in space creation while bringing new value.
Digitilization Efforts
Initiatives for strengthening ICT and other direction technology
Tanseisha considers space to be the one and only media that exists in the form of "experience," and we combine our long-fostered know-how with advanced leading technology in the areas of ICT, VR, AR, interactive, video and sound, in order to provide a moving experience to all visitors.
We also collaborate with various companies and creators at our Laboratory [Mk_3] in Konan, Shinagawa (pronounced: Mark-three) to conduct research and development, experiments, and demonstrations of spatial production using advanced content technology.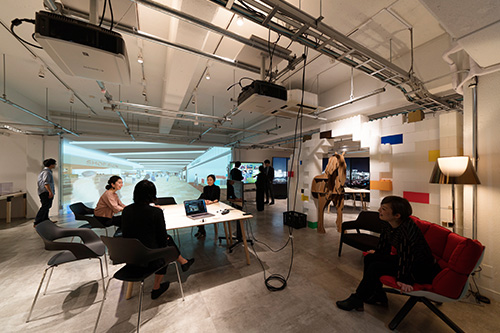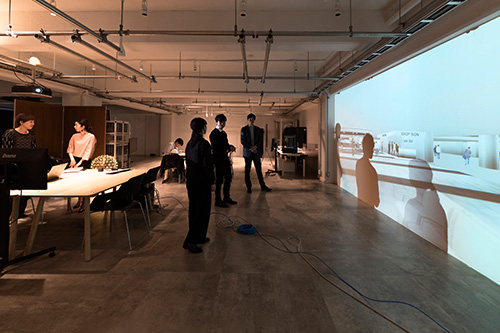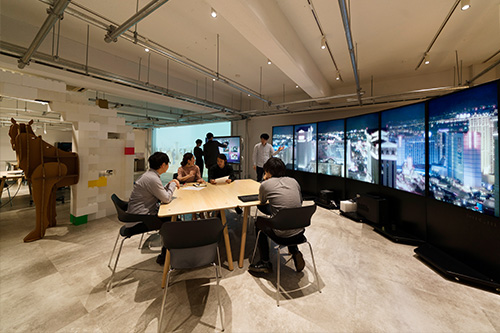 Related information
Services > Add-on > CMI Headquarters ~ Spatial Production Professionals
< News of our web site publication > (in Japanese)
---
Developing "Visual Tiles"
We develop and commercialize our own digital signage system for our projects. "VisualTiles" is a set of databases and applications co-developed by our CMI Headquarters and Nsystem Co., Ltd., that supports information browsing and presentations, making it ideal for various communication spaces. We officially trademarked this touch panel type authoring browser in 2019. It has been adopted as a touch panel information terminal and communications tool in a wide variety of spaces such as corporate showrooms, museums, and co-working spaces.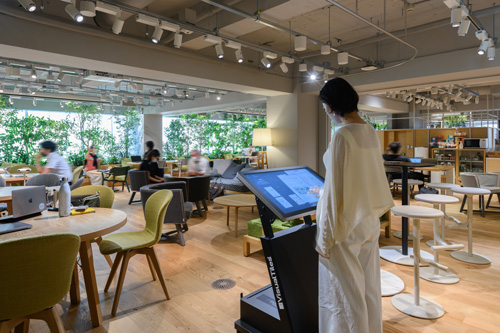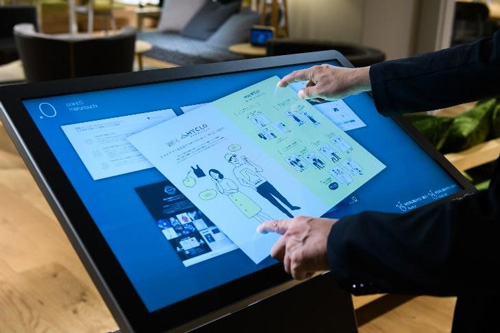 ---
Planning and development of "MYCLO" the digital mirror
Tanseisha has developed a new digital mirror called "MYCLO" that allows shoppers to take photos of themselves trying out clothes, compare them, and save the photos to their smartphones for later viewing. We developed the mirror in order to solve the problems of users (shoppers), stores and manufacturers, by incorporating digital content technology into our unique approach and experience in the creation of many commercial facilities including apparel, retail stores, and specialty stores.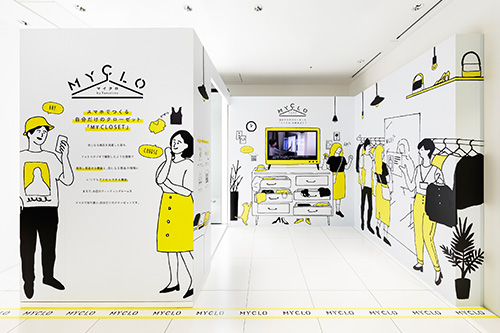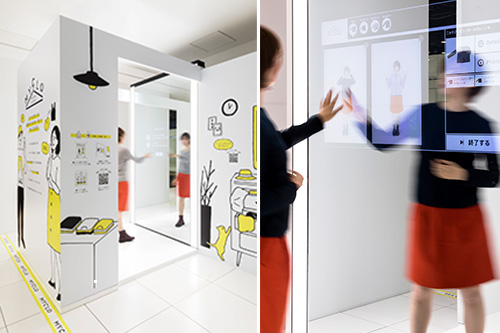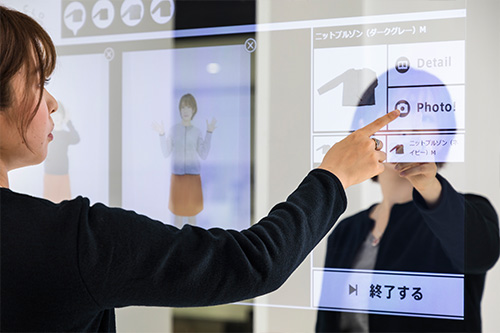 Related information (in Japanese)
< News of our web site publication >
New Business Development and Promotion Providing "B-OWND" – A new platform for artwork utilizing blockchain technology.
Using blockchain technology, we provide the services of B-OWND, a platform that enables the sale and distribution of traditional Japanese art and craftwork to the world. With the introduction of digital registration forms authenticating artwork via blockchain, we have made it possible to create value through the mutual influence of first and secondary distribution, buying and selling works on an E-commerce platform while guaranteeing both their authenticity and added-value in an art market where ownership history is crucial. By forming a new distribution network for collectors in Japan and overseas, we will increase both the awareness and distribution of art works created by traditional Japanese techniques, expand the market, and at the same time contribute to the succession of technology, the development of cultural leaders, the promotion of Japanese culture and art, and last but not least, the revitalizing of local regions.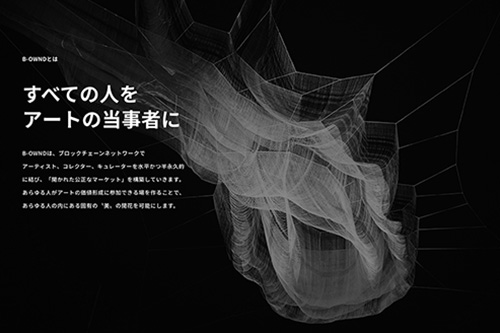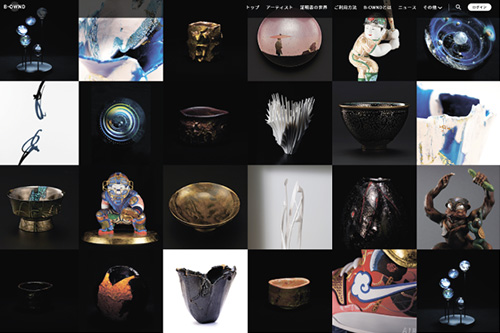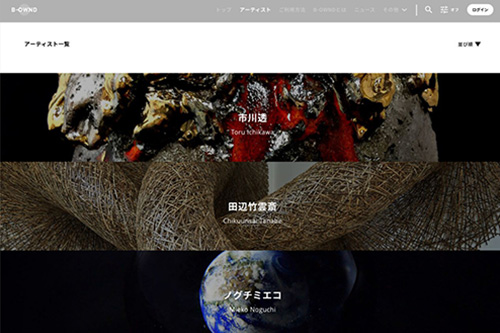 Related information (in Japanese)
---
Creating lively atmospheres by revitalizing old real estate – The R2 Project
Through the R2 (Real Estate Revitalization) project, we revitalize old small and medium-sized buildings in central Tokyo. Utilizing the know-how and network that Tanseisha has cultivated so far, we give new life to these buildings, turning them into small offices that provide a more comfortable working environment for their users.
By increasing the value of old real estate, we contribute to the realization of a circular economy. At the same time, we contribute to the creation of new liveliness by allowing small businesses and start-ups to join the community, and add to residents' livelihood.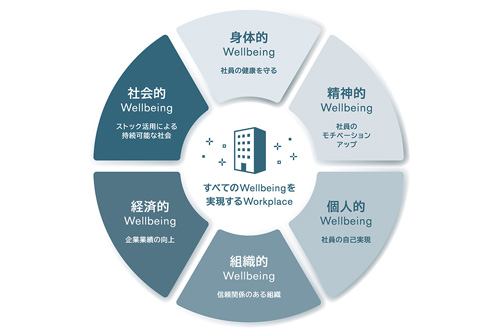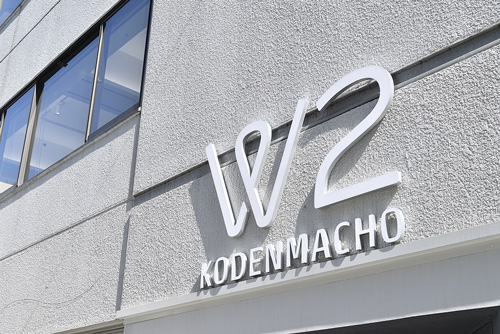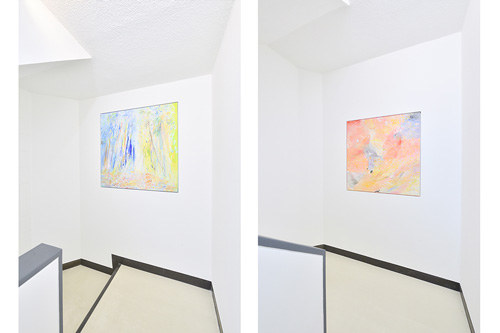 Related information (in Japanese)
Business introduction Solution > Creating lively atmospheres by revitalizing old real estate
< News of our web site publication >
Environment
Consumer Issues
Community
Corporate Partnerships and Advancement of Research Collaboration with NTT DOCOMO
Tanseisha is working with NTT DOCOMO to create spatial value that promotes digital transformation. By combining our know-how in space creation with DOCOMO's ICT technologies and solutions, such as Mobile Space Statistics [Mobile Kuukan Tokei ®], we aim to provide a space where business operators and customers can gain richer and higher quality experience.
Related information (in Japanese)
< News of our web site publication >
2020.01.17
---
Participation in demonstrative experiments with CRESNECT, a spatial data co-creation platform, and their project "point 0 marunouchi," pondering the office space of the future.
We are participating in a demonstrative experiment initiated by "point 0 marunouchi," a member-type co-working space aimed at realizing the "future of office space," which is the first project of CRESNECT*, a spatial data co-creation platform. We aim to create richer office spaces that are tailored to every type of working environment, from entire offices to open spaces and conference rooms. We do this by taking our ability to bring ideas to life and know-how regarding design, production, and construction, and combining them with the latest technologies, data, and know-how of current partner companies. In addition, we are able to promote a new kind of spatial design that makes use of the data of each of our partner companies representing a variety of fields and sectors.
We also offer solutions for the sattelite office projects run by point0 Co., Ltd., who also operates the point 0 committe, of which we are also a member.

*A joint project aimed at creating "the future of office spaces" utilizing CRESNECT, a spatial data co-creation platform announced by its co-creators Daikin Industries, Ltd., Okamura Corporation, SoftBank Corp., Tokio Marine & Nichido Fire Insurance Co., Ltd., Mitsui & Co., Ltd., and Lion Corporation., on July 30, 2018.
< Examples of conducted demonstration experiments >
・Demonstration experiment on the effect of art (B-OWND) 2020/8/24~2021/1/22 ⇒ We analyzed location data from point 0, emotional data (KOKORO scale), biological data, and purchasing data (B-OWND site) to verify the influence of art on space as well as user creativity.
・Demonstration experiment of touch panel type information devices (VisualTiles) 2020/8/3~2021/11/2
⇒ We measured data on users of VisualTiles in co-working spaces and its usefulness for the teams that operate them.
・Demonstration experiment of voice order table [Tanseisha × TOA joint experiment] 2020/10/19~2021/1/22
⇒ We produced a conference room table with three functions: voice ordering system, panel speaker for WEB conference, and non-contact lighting. We conducted user interviews to improve the convenience for users and operators, influence orders (coffee) sales, and gain insight for commercialization.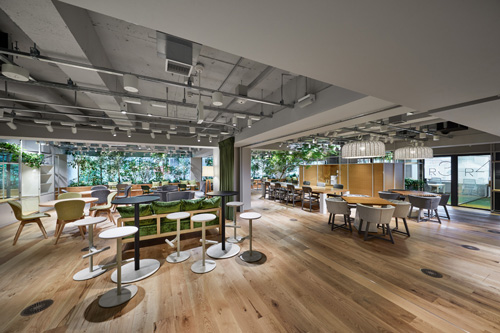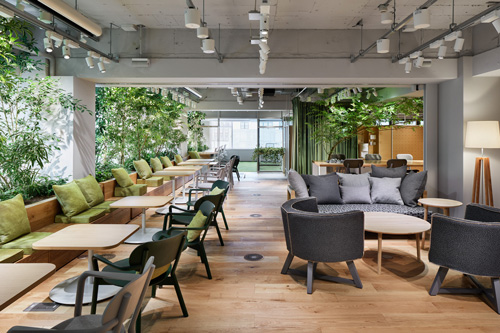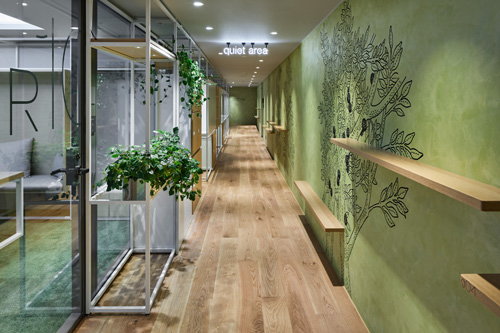 Related information (in Japanese)
< News of our web site publication >
---
Collaborative work with ANREALAGE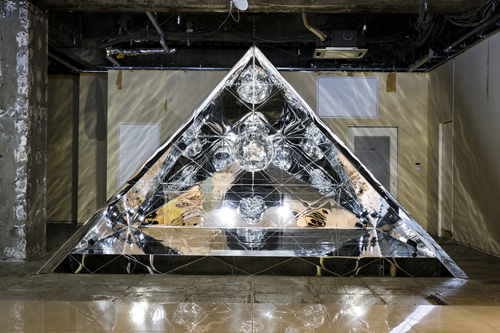 We are working on a co-creative project with fashion brand ANREALAGE that brings new life to the spaces where fashion is experienced.
By fusing the design and technical capabilities of fashion and space with technology, we will continue to develop and hold demonstrative experiments to realize a new space in which to experience fashion, and present new possibilities for the next generation of clothing.
(Photo: ANREALAGE and Tanseisha's exhibition booth at art event "TOKYO 2021". Name: "Transparent Mirror [Tokyo] 2021".)
Related information (in Japanese)
< News of our web site publication >
2020.09.30
---
Use of the mood and comfort measurement tool "KOKORO Scale"
"KOKORO Scale" is a measurement tool of mood and comfort developed by RIKEN based on neuroscience. In cooperation with RIKEN Ventures, we will use the KOKORO scale to develop trials that describe the relationships between physical space and the mind, and aim for creating spaces that "move the mind" in workplaces such as offices, airports, hotels, stores, museums, and more.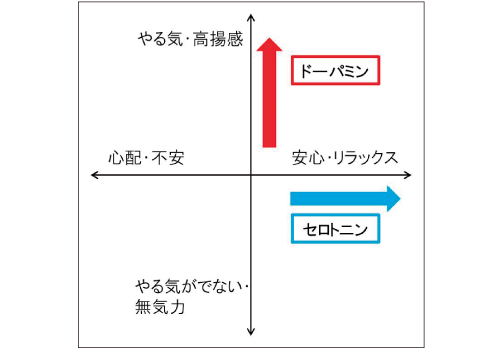 4 quadrant matrix of "KOKORO scale"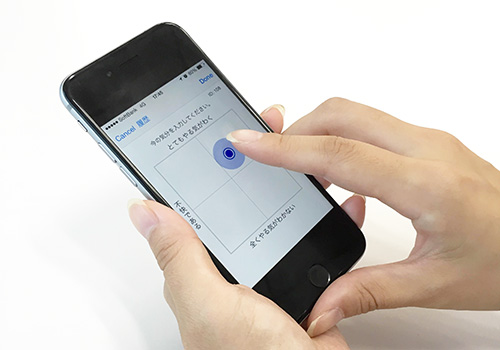 Input screen of "KOKORO scale for Workstyle", plotting mood and comfort on 4 quadrant matrix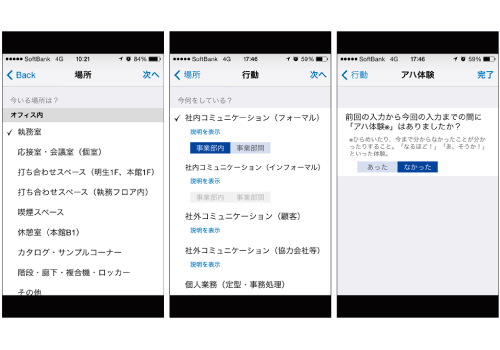 Select "Place", "Action", and "Aha! Experience"
Related information (in Japanese)
< News of our web site publication >
---
Collaboration with Mitsui Chemicals
We promote this collaboration with the aim of providing a richer spatial experience through joint development focusing on human sensitivity.
For the first installment, we joined Mitsui Chemicals in their pursuit of creating clearer eyeglass lenses for a more beautiful world, to develop "posica®kukkiri™Film" using "kukkiri™ shikiso (clear pigment)" technology.
By attaching posica®kukkiri™Film to windows and showcases, viewers are able to experience scenery and exhibits more vividly than ever before. Through products such as posica®kukkiri™Film, we aim to create new businesses by developing various solutions that focus on the senses, which in turn leads to the increase of spatial value.
Related information (in Japanese)
Business introduction Solution > New product development centered on human sensitivity.
< News of our web site publication >
---
Collaborative research regarding data science
We are participating as a joint research entity in the following R & D projects (adopted by the Japan Science and Technology Agency (JST) Future Society Creation Project), in which Professor SATO Akihiro of the Graduate School of Data Science, Yokohama City University serves as the R & D representative.
(R & D subject: "Design and demonstration of autonomous decentralized world mesh statistical infrastructure architecture")
Our aim is to design and demonstrate the architecture of an integrated mesh statistical platform that enables the distribution and utilization of large amounts of data with location information that remains unused worldwide. We aim to utilize the knowledge gained for planning and designing spaces such as tourist facilities, smart buildings, and smart cities.
Furthermore, not only are we sponsors of the in-practice workshop event held by Yokohama City University for their data science postgraduate course, which uses data science technology and design centered methods, our employees also participate as members of management.
---
The University Museum, The University of Tokyo Collaboration with the Research Department (Museum Engineering) of Museum Technology
Our Donation Research Division was established after we made a donation in October 2002 to start Japan's first industry-academia collaboration museum-slash-think tank. We provide a wide array of practical activities in hopes of fulfilling our major mission of "exploring a 21st century museum." KO Tsuneo, Executive Creative Director at Tanseisha, serves as a specially appointed professor of spatial design at The University Museum, The University of Tokyo in the field of exhibition design, where he is active as a plan designer and teacher in practical research of next-generation museums.

The University Museum, The University of Tokyo
Field of Donation Research at The University Museum, The University of Tokyo
KO Tsuneo Profile (The University Museum, The University of Tokyo website)
Industry-Academia Collaboration Project
"Mobile Museum", spreading information on academia and culture through "museums that can be brought out anywhere."
We have established the Mobile Museum, an industry-academia collaboration project with The University Museum, The University of Tokyo, in the reception area of our head office. This exhibition was unitized in a completely new way, connecting the university's academic resources with our corporate office. Through practical research of compactly displaying specimens from the University of Tokyo, we provide visitors with the chance to take in the academic and cultural samples at our office. The exhibition content is selected and updated regularly regardless of the field, be it natural or cultural history.
What is the "Mobile Museum"
It is an experimental project on next-generation museums. The name was coined by its purpose: "a museum that can be brought out anywhere." By compactly displaying the contents of the exhibition at schools, houses, businesses, and public facilities, the surrounding space is transformed into a temporary museum space. The Mobile Museum is a tool that provides cultural assets to a wide range of social audiences by mobilizing existing museum collections.

Mobile Museum (The University Museum, The University of Tokyo)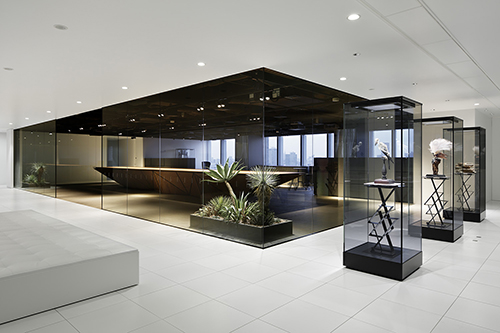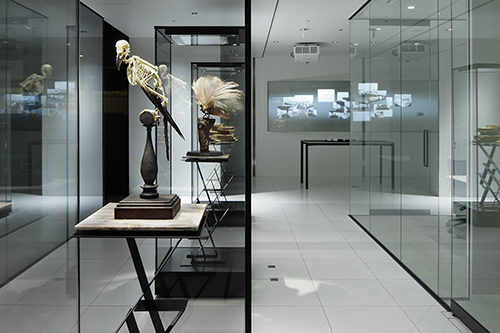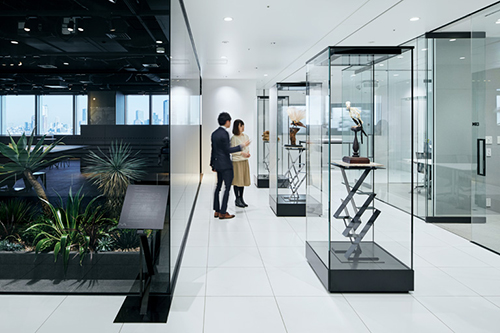 Holding cultural tourism seminars
Tanseisha regularly holds in-house study sessions on cultural tourism (tourism aimed at satisfying intellectual needs for cultural elements such as Japanese history and tradition), and invites out-of-house experts to help continue our learning journey of how to make use of local cultural resources and tourism facilities. We continue to deepen our knowledge so that we may propose and facilitate ideas for enlivening the tourism industry through the creating of spaces such as of hotels, museums, and more.
Labor Practices
Consumer Issues
In the examples of our company efforts to address each materiality category, we use the following tags to represent each of the central themes described in ISO26000.
Corporate Governance

: Corporate governance

Human Rights

: Due diligence | Human rights risk situations | Avoidance of complicity | Resolving grievances | Discrimination and vulnerable groups | Civil and political rights | Economic, social and cultural rights | Fundamental principles and rights at work

Labor Practices

: Employment and employment relationships | Conditions of work and social protection | Social dialogue | Health and Safety at work | Human development and training in the workplace

Environment

: Prevention of pollution | Sustainable resource use | Climate change mitigation and adaptation | Protection of the environment, biodiversity and restoration of natural habitats

Fair Operating Practices

: Anti-corruption | Responsible political involvement | Fair competition | Promoting social responsibility in the value chain | Respect for property rights

Consumer Issues

: Fair marketing, factual and unbiased information and fair contractual practices | Protecting consumers' health and safety | Sustainable consumption | Consumer service, support, and complaint and dispute resolution | Consumer data protection and privacy | Access to essential services | Education and awareness

Community

(Community Involvement and Development): Community involvement | Education and culture | Employment creation and skills development | Technology development and access | Wealth and income creation | Health | Social investment